The Spinsight app pushes modern smartphones to their limits in order to give you precise stats about your game in real time. To make this possible a stable set up is required. This is what you need.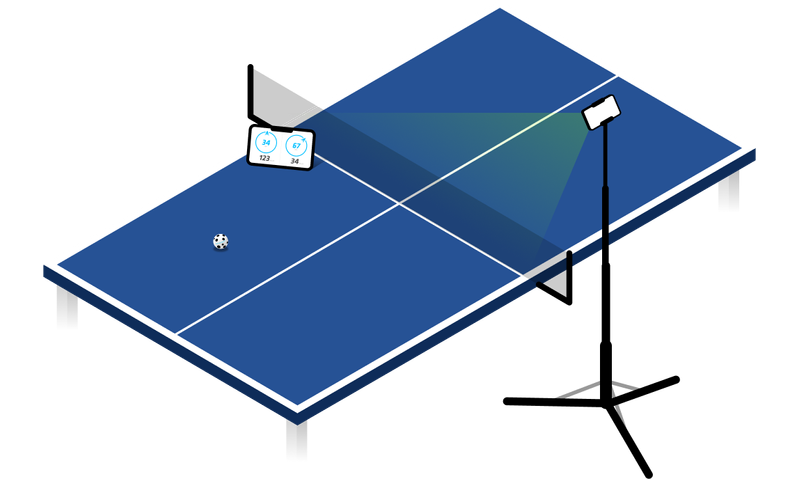 App
The Spinsight app is the heart of the spinsight system. Apply for beta access.
Balls
The Spinsight balls lets you see spin with your own eyes and lets the spinsight app measure both spin and speed.
Stand
The Spinsight app needs to be in a specific position to work. With the Spinsight stand this is fast and easy to set up.
Compatible phone + optional viewer
The Spinsight app is pushes the limits of modern smart phones. It is currently only compatible with iPhone 13 and newer.
Results can be shown on any phone, tablet, computer or other devices with a browser.
Internet connection
To calculate spin and speed with high accuracy, we let our datacenter do the heavy lifting. Therefore you need an internet connection while using the Spinsight app.
Good light
To capture high speed image data for spin and speed calculation, good light is necessary at the table.
Bringing precision measurement to a phone is challenging but we are well on our way, and now we would like to invite curious and innovative players to work with us to perfect the app system.
We are starting the beta phase for professional and amateur coaches in Europe who has an iPhone 13 or newer, and we are actively working on enabling Spinsight for more phone models. Every accepted applicant will get free months of service and discounts on gear, so apply now even if your phone or location is not currently supported.
Apply for beta access in less than two minutes. Currently available for professional and amateur coaches in Europe with iPhone 13 or newer.
If you qualified, we send you instructions on how to download the Spinsight app through test flight.
All app beta players get a discount on all necessary gear in the Spinsight store.
Join our journey
Subscribe to the Spinsight newsletter and be the first to hear about our news and product releases. 
Welcome to the team!